Good looks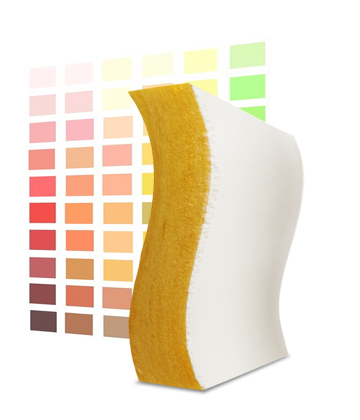 Fellert's seamless designer ceilings were especially developed to be seamless. Sound odd? Not at all. Considering that all ceilings available on the market have internal limitations, often even for areas as small as 1500 square ft (150 square meters). We think… in a different way. With one of our solutions, you won't even find yourself in a situation that requires adding a construction joint due to system limitations. Well before this would be necessary, you would have reached a wall or new section of the building.
Fellert Even Better offers complete freedom of design. Color our products as you please, play with surface structures and think outside the box when it comes to ceiling shapes. Everything is possible.
Fellert's seamless designer ceilings have also been especially developed to be just as esthetically pleasing year after year. Acoustical ceilings are designed to absorb sound as effectively as possible, and to succeed with this, they must be porous. A porous surface that also looks smooth and seamless can be easily damaged. There can be spots, marks from impact, tears or accumulations of grime. With this in mind, it's rather odd that most products on the market cannot be repaired, which is both expensive and impractical. Fellert's products can always be revitalized and freshened up thanks to a special reactivation technology.
Need access to an installation above the ceiling? No problem. We've thought about that too. Fellert's access panel is designed to provide discrete access, and without degrading the acoustics. It's fully compatible with our Even Better System – no special adaptations are needed.
And if you should look up one day and wish you'd installed a Feller ceiling instead of that other ceiling that now looks so stained and dull, or if you have a Fellert ceiling but would like it in another color… We've thought about that as well. With our acoustical coating you can easily freshen up uninspiring ceilings and use any color you like. Why does a ceiling have to be white? Why?